Learn handwriting analysis and forensic document examination through independent study from a pro with more than 50 years of experience 
The Gestalt Method of Handwriting Analysis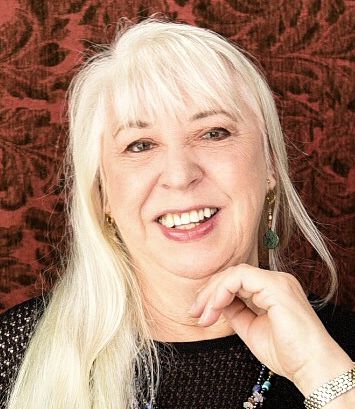 These four complex lessons authored by Sheila Lowe will teach you to view handwriting in a whole new way.  And they come with three special free bonuses: 
BONUS #1: Links to 12 one-hour videos (free!). Recorded during an online class, they cover many important topics related to handwriting and behavior correlating with the text materials. 
Click here to watch video #1 right now, free, no obligation
Bonus #2: A free electronic copy of Sheila's latest book, Succeeding in the Business of Handwriting Analysis. The book Sheila wishes she'd had when she went into business, SBHA shows you what you need to know to start your own practice. Covers a wide range of topics and includes helpful information on how to do compatibility and employment analysis. 
Bonus #3: Free videos of lectures by some of the top teachers in the field, including Roger Rubin, Renate Griffiths, and Erika Karohs. You won't find these videos anywhere else. Presented at Vanguard Conferences, they are available only to students of Sheila's course.
This course is self-paced, which means there are no deadlines. Read the material at your convenience and submit your answers to the quiz questions at the end of each section for Sheila's feedback. When you have successfully answered all the questions, you will receive your diploma. (important note: a diploma is not the same as certification. For information about certification, click here.   
How much does it cost?
Receive the four lessons (including many handwriting samples), bonus videos and book, and easy access to your instructor. Tuition is only $475. 
Register now
Credit card, click here
Zelle (preferred), Venmo, or PayPal: make the tuition payment to sheila@sheilalowe.com 
By check: email for address: sheila@sheilalowe.com 
You will learn to
Develop "eye training"
Recognize essential features of the writer's core personality
Understand and interpret handwriting characteristics
Classify types of mental processing and thinking styles
Identify social styles and social skills
Positive and negative self-concept factors
Spot indicators for conscious and unconscious behavioral controls
Identify the "Big Five" personality characteristics: agreeableness, conscientiousness, negative emotionality, extroversion, and openness in handwriting
Become familiar with some of the basic concepts of Freud, Jung, Adler, Horney, and Maslow and how they apply to handwriting
Indicators for behavioral or personality disorders.
Pinpoint red flags for dangerous behavior
Complete a general personality profile in writing
Explain what handwriting can and cannot reveal about the writer
You will receive four Big Lessons, which are comprised of many complex elements
Perception, and overview of space, form, and movement

Definition of gestalt
Good v. bad gestalt
Lesson One – Spatial Arrangement 
What space is in handwriting

Analyzing space – Strong, weak, disturbed
Margins
Word space
Letter space
Line space
Baseline
Lesson Two – Writing Form
Defining form in handwriting

Strong, weak, disturbed continuum
Form consciousness
Simplification of form continuum
Weak form
Disturbed form
Form and ego
How abuse may affect form
Stylized writing
Elaboration
Connective Forms

Garland, Arcade, Thread, Angle

Curves/straight lines
Printed writing
Lesson Three – Writing Movement
Introduction to movement, the strong, weak, disturbed continuum

Movement and the id
The regularity-irregularity continuum
The three zones

upper, middle, lower zone

Measuring the zones
Ratios and proportions
Twists and turns in the lower zone
Connectedness continuum
Soldering/patching
Writing slant
Measuring slant
Ductus

sharpness, pastosity, muddiness, shading

Writing pressure

reversed, displaced, fluctuating, directional pressure

Writing speed
Lesson Four – puts it all together in the context of Maslow's Hierarchy of Needs
The big picture
Typologies

Motivation, the key to behavior (Maslow's Hierarchy of Needs)
The Big Five
The Dominant Picture
Analyzing handwriting
How is this course different from the book, Reading Between the Lines, Decoding Handwriting?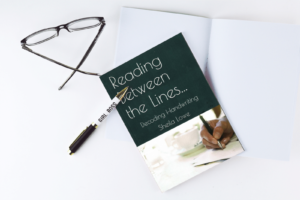 The course is founded on the same gestalt principles introduced in Sheila's basic book. The lessons build on and amplify the many topics introduced there. The book is like a basic course. Taking the Gestalt course is the next step in the path towards putting your knowledge to work. By practicing your skills on the many handwriting samples that are included, as well samples you gather from friends and family, you will be able to apply what you learn in many different settings.
Whether you are a beginning student of handwriting analysis or have studied the trait method through IGAS or other schools, if you want to learn more about handwriting and personality, you will benefit from this material and from your instructor's more than fifty years' experience in the field.
The exercises at the end of each section will help you develop a firm foundation for your handwriting analysis practice. Submit your answers to to get feedback on your work from Sheila. After successfully answering all the questions, you will receive your diploma.
***
Sheila Lowe's Gestalt Graphology Course is a comprehensive self-study course that will teach you how to do Gestalt handwriting analysis. It is well written, and the explanations and examples are clear and understandable. There are exercises throughout the course that you can (and should) complete and submit to Sheila for her feedback and guidance. 

If you want to learn handwriting analysis, this is the best course out there. Her explanations of psychological theory and how it applies to handwriting analysis are excellent. Her writing on Maslow is the best I have ever read. I have a huge library of graphology books, videos, and courses but it was this course that put everything together for me. Sheila has been practicing handwriting analysis for over 50 years and she herself has studied with Felix Klein, Roger Rubin, and other giants in the field. I highly recommend this course for both beginners and the more experienced. 
                         Dr. Marion Rollings, PhD, Psychologist
Register now for the Independent Study Program 
Credit card, click here
PayPal, Zelle, or Venmo: make the registration payment to sheila@sheilalowe.com 
By check: email for address: sheila@sheilalowe.com 
***
NEW! Master Class in Gestalt Graphology
Sheila recorded a recent four-session master class. Click here to order the videos.
Topics covered
 Demonstration of two handwriting analyses using the gestalt method
Analyzing signatures
Analyzing the PPI, and Counterdominants
Analyzing printed writing
From intro to advanced topics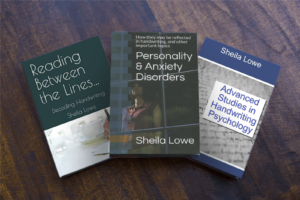 What students say about the Courses in Gestalt Graphology
"I had been studying graphology for over two years before I found you. Your course and your books intensified my knowledge and gave me a fundamental wholistic understanding of Gestalt Graphology that I'd been seeking but could not find. I am indebted to you for being so generous with your skill and your wisdom. You have opened a new world for me and you have made me a better graphologist."  Ashira G (Canada)
"I've been following Sheila Lowe since 1996 and bought all her books before taking the course. The books and course are beautifully laid out, explanations are clear and easy to follow.  Of all the graphology courses I've taken, this one is right at the top" Desiree R. (Scotland)
"The first book I ever read of Sheila's was The Complete Idiot's Guide to Handwriting Analysis. I so enjoyed that book that it was a no-brainer to enroll in her course. I was not disappointed, the course was so informative, I learned so much and you can tell by Sheila's feedback on your work, that she is invested in her students." Angie O (Australia)
"Sheila Lowe's courses excel where others often offer incomplete or confusing instruction. She has a way of understanding the mind of the student, no matter at what level they are. The courses guide, challenge and reward each student. These aspects help make these courses so valuable and effective. Highly recommended." Charles T. (USA) 
"…the more I read it, the more my mind is blown with the way you structure & explain graphology." Deborah D. (Indonesia)
"(Sheila's) teaching style is fabulous! It's enabled me, a beginner in this art, to catch on and learn some very practical things quickly. Also, to have the videos and materials to review forever is a huge plus." Donna W. (USA)
"Thank you, Sheila, for the great gestalt course! It opened a whole new world to me in graphology. I can't imagine anymore how did I ever manage without the gestalt approach graphology. It makes so much sense. I love it! The content was easy to follow and included a lot of good samples making learning easy and interesting.  Also, thank you for your always excellent customer service. I really appreciate that! Mari MK, (Norway).
"Sheila Lowe's course is well rounded and covers all the handwriting analysis topics.  She is thorough, thoughtful, and caring as a teacher and a great wealth of information when you need it after the course.  I highly recommend her and the course." Judy K  (USA)
"Sheila Lowe's course has deep insight of handwriting analysis, which is really helpful for every person who is keen to know about graphology. For me I had better understanding of the subject only after I had done this course though I was working in this field for years. Sheila's course has given me a correct insight on graphology.  I highly recommend it." Samita P. (India)
"Sheila's course is very well organized and informative. I especially liked the actual examples. She has a great way of explaining the concepts so they are easy to understand and remember." Donna A. (USA)
"Sheila Lowe created a course that not only made me understand graphology more deeply, it also changed the way I analyze a person's personality. After taking this course, I find it easier to find the essence of a person's personality through handwriting more quickly." Hendri H (Indonesia)
"No matter who you are, or at what level of expertise you function as a handwriting analyst, Sheila Lowe's updated Gestalt Graphology Course is worth your time and money ….  The object of the is to learn to use your intuition and perceive handwriting as a unified whole, rather than a collection of traits, which can end up being meaningless … If you are going to take only one course on handwriting analysis, which will hone your professional skill and expertise, this is it!" Linda G. (USA)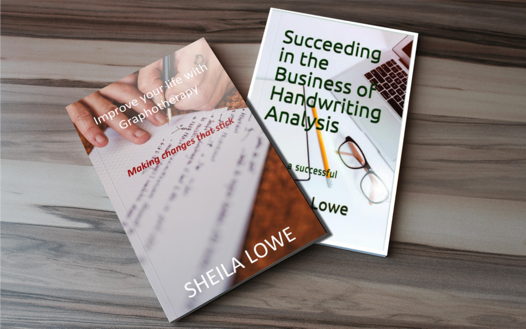 How long does it take?
The program is self-study, so work at your own pace. You are not on your own. Sheila makes herself available to answer questions at no additional cost.
Why study handwriting analysis?
self-insight – understand why you make the choices you do
understand your kids/parents/students
relationship compatibility (personal and business)
vocational guidance – choose the right career for you
pre-employment selection – hire the right people
employee management – build stronger teams
graphotherapy – exercises to help erase roadblocks to success
To understand yourself better and help others, learn the gestalt method of handwriting analysis from someone who has practiced for more than fifty years.

Covers these topics and more
Types of forgers, types of forgery
Equipment and resources used by a document examiner
Methods of examination and process of comparison
Recognizing disguised and simulated handwriting
Synchronous writing
Opinion scales
QDE reports: what they need to include
Taking a request writing
Non-handwriting aspects of document examination
Depositions and the courtroom: giving testimony
Work on actual cases from the first class
Six 90-minute sessions now on video $190. 
What students are saying about the Intro to QDE course
"Sheila Lowe's introductory course on Questioned Document Examination is the perfect course for those who are interested in learning more and possibly pursuing further training for certification. It is also perfect for someone like myself, who is interested in learning more about document examination and not certification. In addition to being a respected expert on Gestalt Handwriting Analysis, Sheila is also an F.D.E. The course offers 10 hours of classes and the author and FDE Reed Hayes makes an appearance at the end of the course to discuss further training. I highly recommend this course." Marion Rollings, Ph.D.
 "Can't wait for the class as usual.  It gets better every week!" Bill Losefsky 
 "I am really enjoying your lessons, thank you for putting this together." Tara K.
"The videos are great, and the handouts are great. I definitely got my money's worth and more!" Tom Horan
About your instructor
Born in England, Sheila Lowe has lived in California for most of her life. She began her study of handwriting in 1967, later taking courses with internationally known handwriting experts Charlie Cole, and mentoring under Roger Rubin, perhaps the best graphologist in modern times.
Sheila has taught a variety of handwriting analysis courses: the Psychogram, Personal Worth, and by invitation at the University of California, Riverside and Santa Barbara campuses, as well as many other venues. She has lectured at countless organizations and companies in the U.S., Canada, India, and Great Britain.
In the late 1990s Sheila worked with RI Software to produce the Handwriting Analyzer software, which continues to be used around the world by businesses, law enforcement, government offices, therapists, graphologists, and other individuals.
President of the nonprofit educational American Handwriting Analysis Foundation from 2012-2022, Sheila is also the editor and publisher of AHAF's publication, The Vanguard, and was a founding member and president of the SoCal chapter. She has served on the board of directors of the Scientific Association of Forensic Examiners since 2014 as Ethics Chair and Secretary, and from 2004-2018 served on the board of directors of the Ventura County Professional Women's Network in a variety of positions, including president.
For additional information, contact Sheila for a copy of her current curriculum vitae.